Lilly and Tage Sørensen
W
hen Lilly Kofoed walked down the aisle of her home church in Skævinge, north Sjælland to marry Tage Sørensen on the 10
th
June 1945, she had no idea that her future life was to be lived first in Africa and then in New Zealand.
Life in Copenhagen
It was war time in occupied Denmark, when Lilly started her nursing training at Bispebjerg Hospital in Copenhagen. The following year she met Tage Sørensen, a trained soap master who came to Copenhagen to be an actor and like so many actors was out of work. To support himself he delivered freshly baked bread in the early morning and cleaned the bakery later. It was an existence. On the 4
th
of May 1945, in the early evening, the Second World War ended. Tage went to the nurse's residence to collect Lilly. Still in her uniform and wooden clogs, she and Tage joined what seemed like the whole of Copenhagen, on the streets celebrating their newly declared freedom. Suddenly there was hope in the world. Tage and Lilly discovered they were in love and decided to get married.
Africa first overseas experience
Lilly and Tage wanted to travel and explore the world. Their first child was born the following year in December 1946, but their desire to experience life outside of Denmark remained. On the 24
th 
October 1949 the Sørensen family of three and a new baby on the way, set off for Windhoek, South West Africa (now known as Namibia) where Tage was to establish a soap factory for a Dane. The family stayed in Windhoek for 10 years. When the time came to leave they decided not to return to Denmark.
New Zealand the next experience in life
The Sørensen family arrived in New Zealand with 3 children aged 13, 9 and 4 months on the 24
th
October 1959. In Auckland their agent met them as they knew no one in this country. Lilly remembers the day well. They heard people telling them it was a wonderful sunny day but coming from Africa they were not particularly impressed with the NZ sun. A freighter had carried all their belongings including their recently purchased car for which to their surprise, a £250 import tax was required.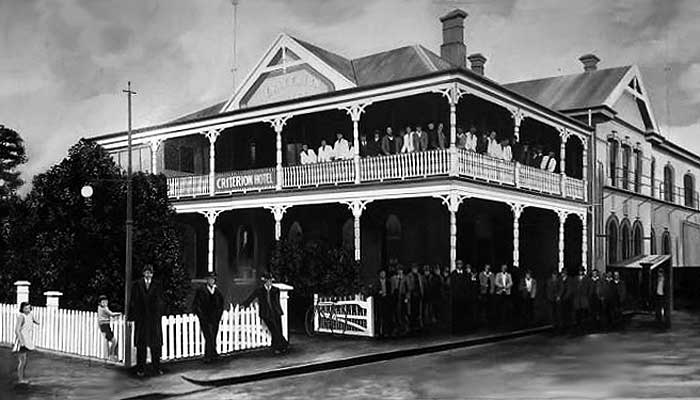 They were taken to the Criterion Hotel in Otahuhu, close to the Taniwha Soap Factory. Lilly remembers the hotel being very pleasant and located in the shopping centre. After settling in the family walked to look at the Otahuhu Shopping Centre and found all the shops closed. It was Labour weekend. On the street they saw NZ Herald boxes holding newspapers and a slot to place the money. This amused them, having just left Africa, where every thing was under lock and key. Their first day was very memorable.
Their car allowed them to explore Auckland. They saw the inner city, the harbour bridge, the pride of Auckland and continued through the western suburbs. After 10 years of dry and brown Africa, the greenery was overwhelming.
Full board, for a family of four and a baby at the Criterion Hotel, was £8 a day. Tage's wage at the Taniwha Soap Factory was £13 a week. They needed to take action and decided to contact the Danish Society in Auckland. Mr Svend Marquart, the President of the Danish Society, visited them and within days found a large spare room in an elderly woman's home nearby. Lilly had to cook on a primus stove in the back garden for those weeks. It was as Lilly says "better than paying the hotel". Shortly afterwards the family shifted into a rented flat in Otahuhu. The job at the Taniwha Soap Factory could not fulfil Tage. The following month he saw an advertisement for an assistant chemist at the Waitomo Cement Factory in Te Kuiti.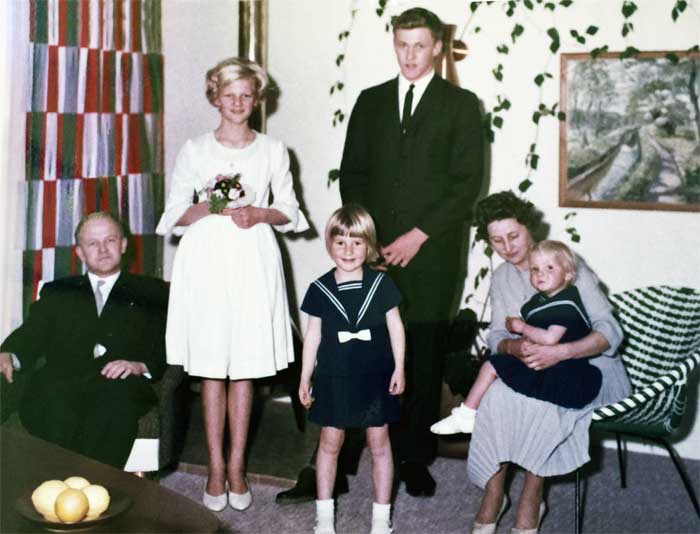 This position included a house. Tage obtained the job and in December 1959 the whole family shifted to Te Kuiti. It was a small quiet town with houses that looked half-asleep as the Holland blinds in the front rooms were neatly pulled half way down the window. Lilly and Tage wondered about their first Christmas in a new town and country where they knew no one. Lilly had taken the baby to the Plunket Nurse who arranged the carol-playing brass band truck to stop outside their house. It was a heart-warming experience for the family. Then they meet a fellow Dane.
Lilly's use of English was adequate, but the New Zealand pronunciation and use of English was different from Windhoek. For Christmas she asked the butcher for a duck, but he heard her say "dog". On another occasion, a New Zealand family invited them for "tea" at 5pm. Lilly made sure that the children were well fed prior to the visit, so they did not disgrace themselves eating too many cakes. Lilly and Tage were surprised when they were asked to sit at the dining table, where a New Zealand roast dinner was served with a sweet dessert to follow. Within a few weeks, Tage realised the job at the cement works was not for him. Again he searched for jobs. Tage obtained a position with Frank Stephens Pharmaceuticals in Glen Innes, Auckland. They manufactured tablets and creams. There was no house with this position, but there was a company car.
Back in Auckland
So after six months in Te Kuiti, the Sørensen family returned to Auckland, renting a flat in Rockfield Road, Penrose. This was a good move and life became more settled. The Danish Society was growing in numbers with so many immigrants arriving and it became part of their life.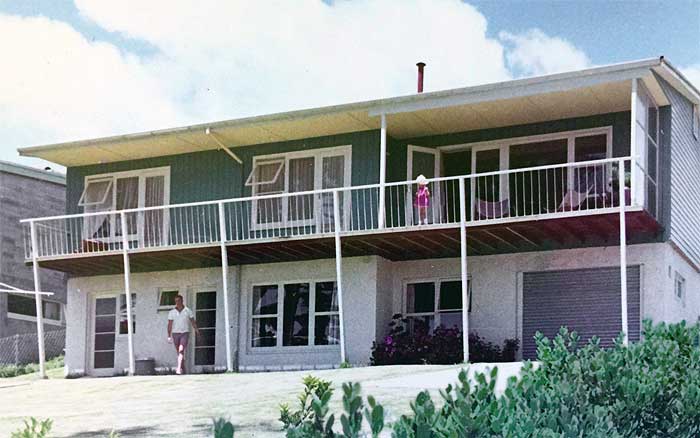 It was at this time, that Tage saw the possibility of building his own house, as was common practice in New Zealand at that time. They purchased a section for £1100 in Ellerslie Heights. In the weekends and after work Tage would be working on the section, digging it out and laying the foundation. He was helped by their son who loved working on the section.
Tage Sørensen, the entrepreneur
Through work contacts Tage was asked to work with Schwarzkopf hair colouring and so set up a business, International Laboratories. This he did privately and in the weekends. This business grew and became his full-time focus. He found business partners and established a new company, Danford Laboratories. Tage began making shampoos, skin creams, bubble bath, lotions and talcum powder on contract for other firms. Danford Laboratories continued to grow. Another partner joined the business to market the new line of products, their own brand of toiletries and cosmetics under the brand name "Belina". A fourth partner, Knud Kristensen a builder who owned the factory premises, joined the business.
It was the late 1960s, ten years after the Sørensens had arrived in New Zealand, the business was growing and import restrictions were working in NZ small business's favour. They needed to expand and decided to build their own factory in Mangere which Knud Kristensen, built. Those were exciting days and at the height of the business there were 30 people employed in the factory. At home, Lilly looked after the growing family of now four children. A new baby daughter was born to the family in 1962 here in Auckland. Lilly coped with a new country, a new baby, and running the household. Later when the children were at school, she was the wages clerk in the business and at age 45, she even obtained her driving licence.
Looking back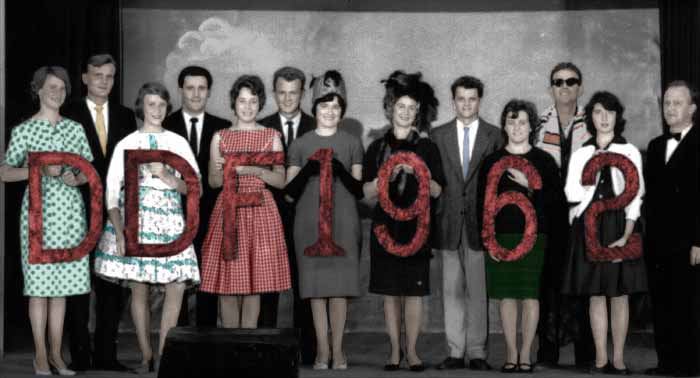 On looking back at their early life in New Zealand, Lilly has no regrets. Tage used his entrepreneurial skills to establish a good and lasting business. She supported him all the way. In their social life, there were plenty of opportunities for Tage to express his thespian skills, through the Danish Society's "revys", and theatre and social evenings. They gained a circle of good friends. Lilly feels they became Danish here in New Zealand, as so many of their friends were Danish.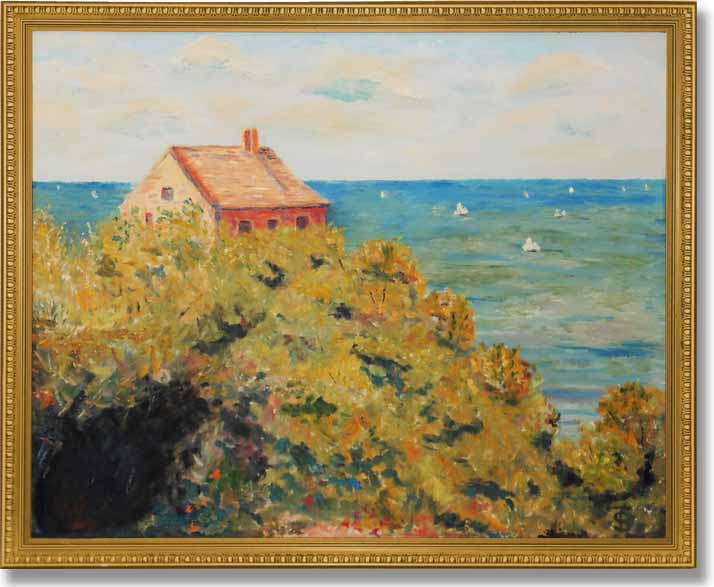 Tage retired at age 61, because of his health. This gave him time, among other interests, to express his creative skills in painting, which is decorating Lilly's home. Tage and Lilly celebrated their 60
th
wedding anniversary in 2005 with their large extended family and friends. It was a very festive occasion. Tage became increasingly frail and in 2009 at age 88 passed away. Some of the highlights of coming to New Zealand for Lilly have been to see her children and grandchildren grow up and develop abilities in this country. Lilly puts it this way
"My eyes are failing now, but it is up to me how I look at life and I have seen it positively even in tough times."