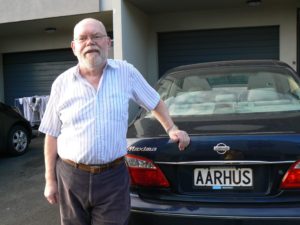 The wharf in Aarhus was Henning's favourite place as a boy. Watching ships dock and passengers get off and on boats, occupied him for hours. He resolved that he too would get on a ship and sail, when he grew up.
In April 1963, Henning Dinesen, now 22 ½ years, stood on Esbjerg's wharf about to board a boat to England. His mother and grandmother had tears in their eyes. "I am glad you are going to see the world but why do you have to go so far away" said his mother while his father and grandfather looked on and admired the boat.
Henning heard of New Zealand, when in 1962 his father's old school friend Jens Jørgensen paid a visit. Jens immigrated to New Zealand immediately after the war and was home for a visit. There was much talk in the Dinesen's home about New Zealand. Henning having just finished his compulsory military service was fascinated by the stories of this country on the other side of the world, where there was sun and warmth. He was even invited by the Jorgensen family to stay, should he ever come to New Zealand.
Deciding to investigate what immigration to New Zealand involved, Henning went to the British Consul's office in Aarhus. He was pleased Jens Jørgensen was willing to accompany him, as he could speak English. What Henning was told was unbelievable. He was eligible for a free passage to New Zealand, because he was a qualified printer, as long as he stayed for two years. Here was his opportunity to travel and fulfil his childhood dream.
He filled out the forms assembled his papers to make application to immigrate to New Zealand, through the British Consul and waited. Some six months later he received a ticket to New Zealand, on the P&O line's Northern Star sailing from South Hampton.
He did have to pay for his own ticket to London, where he stayed at the Palace Hotel. It was luxurious. He could even place his shoes outside his hotel door and they would be polished by the morning.
On the Northern Star he found himself sharing a four berth cabin with three young Danes bound for Australia and New Zealand. Together they took advantage of all the exciting adventures on land and sea, as it sailed around South Africa, to Australia.
They tried to improve their English on route but Danish was so much easier to talk among them selves.
After saying good bye to one of the Danes in Sydney Australia, the Northern Star, sailed the last stretch over the Tasman Sea to New Zealand. It was Monday the 3rd June early in the morning when the Northern Star berthed in Wellington and it was raining and generally cold and weather miserable. Henning was disappointed. The weather felt like that in Denmark and he had sailed half way around the world.
He had to clear custom before being handed a ticket for the night train, the Limited, to Auckland. It departed at 5pm. Others were buying pillows for the journey and he also decided to buy one. To his surprise, it only cost one shilling. It proved to very useful for the long shaky journey to Auckland.
At 8.30am in the morning the train finally stopped at Auckland Railway Station. The Jørgensen family were waiting on the platform. It was a welcome relief to get out of the train and meet Danes. Collecting his luggage and holding on to his pillow, chatting to the Jørgensens, he was stopped by the guard and asked to hand the pillow back. Henning was perplexed because he had bought it in Wellington. Jens Jørgensen explained that he had hired in for the journey only. With that, Henning handed the pillow back. This was a different and new country and now his first priority was to learn the language and become familiar with its ways..
Post script
Henning did learn the language very quickly. He very soon obtained work as a printer. When the two year period was up, Henning decided that the weather in Auckland really suited him and decided to stay. Later he met Anne, whom he married and continued to live in this country, visiting Denmark on numerous occasions." In the last 50 years I have been in New Zealand, I have only had three jobs and I have never been out of work" says Henning smiling with contentment.