Bente and Ken Winter
Bente was happy living in Aarhus, Denmark, as a young woman, in 1955. She had a job in an office, a boyfriend, Ken Winter and the future looked good.
It was only when Ken began talking about seeing the world that she was alerted to New Zealand. The agreement was that he would set off first and if he liked New Zealand, he would ask Bente to join him. Ken liked New Zealand and Bente joined him in March 1956.
Bente's parents were happy for her to see the world and go beyond Denmark's small borders but New Zealand was so far away. However she knew that she could always come back to Denmark if she did not like being there.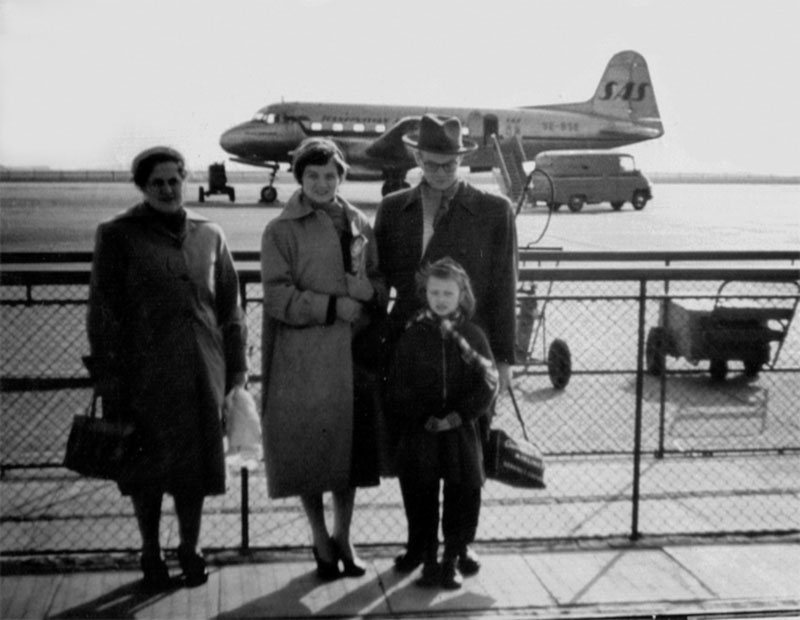 They shared the cost of the flight to New Zealand, so she did not have to take 6 weeks to get there.
Ken had work and Bente soon found work as a packer of chewing gum at Wrigley's Chewing Gum Factory on the Ellerslie- Panmure Highway. It was her lack of English that forced her to work in a factory, so different from what she was used to in Aarhus. Bente just got on with it.
They enjoyed New Zealand and the New Zealand people they met, even if they felt many NZ attitudes to life were archaic and Victorian. "It was as if Queen Victoria was still alive", says Bente.
A New Zealand Wedding
Like many young Kiwis, Ken and Bente decided to get married. They loved each other and they liked this country where they were starting a totally new life together. June 16th was the date, as the Danish-speaking Lutheran pastor Ansgar Christiansen from Palmerston North was coming to Auckland. The Danish community rented a church in Grafton for these occasions. He, however, became ill and was unable to come. It was disappointing for Bente and Ken as they wanted to say their vows to each other in Danish. It was Pastor Clem Koch, the local Lutheran pastor, a caring and pleasant man, who actually conducted the service in English, but when the vows were said, he handed that part of the service to the lay pastor, Viggo Pedersen. Bente and Ken had their wish fulfilled after all.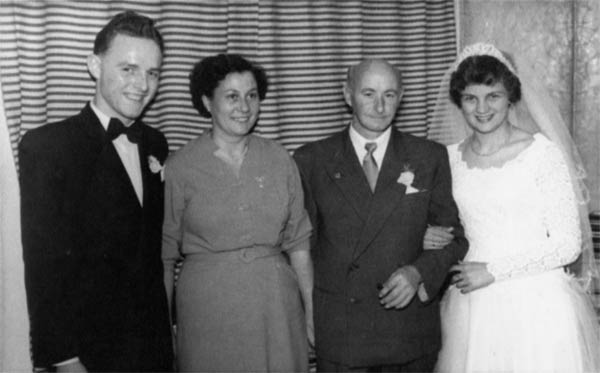 Their landlady, Lily Christensen, was so excited about the wedding, she offered to put on a wedding breakfast in their large house. It was a party of 12, all new friends, that were there to celebrate the newly-weds with a typical Danish feast.
With little money, they decided to celebrate their honeymoon when they took Ken's suit into the city, by giving themselves time off work to go and see the film "Gone with the Wind" that was running in the Civic theatre. It is a honeymoon that neither of them forget.
Getting to know new people in New Zealand
As Bente's English improved, they made friends with New Zealanders and were invited into their homes. Bente recalls how when the English language is taken literally, it can lead a new-comer into embarrassing situations.
Settling into a New Zealand way of life
Ken and Bente enjoyed life in Auckland. They were newly married, working hard in their jobs and saving their money. Their social group was expanding, among New Zealanders and among Danes in the Danish Society, where they were part of the folk dancing group.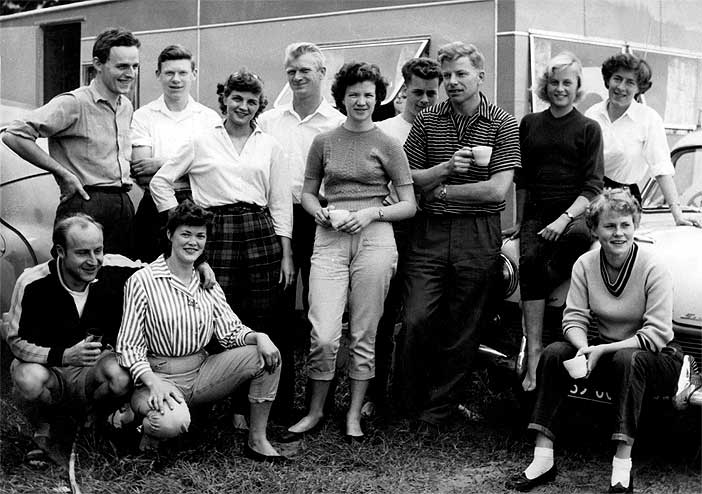 There were many aspects of life that were so different from their life style in Denmark, especially in regard to the food they were used to.
Bente and Ken's attitude to these differences were that it was up to them to adapt and that is what they did.
There was one aspect that Bente felt strongly about in the 1950s and that was Kiwis' attitude to work.
They both found these differences interesting and were prepared to accept New Zealand as it was.
Putting down roots
It was as early as 1958 when they, like so many young NZ couples, bought a section to build a new home. They had a simple but solid house built. In that same year 1958, they also started their own business making furniture. The first workshop was on their Godley Road property in a shed built from packing cases. Initially, Bente was involved with the actual furniture making process before focusing solely on managing the office work.
It was in making their commitment to their business and building a home that the feeling of being at home in New Zealand initiated, and that has never changed.
The story of Danske Møbler is well recorded on their website.
They set up their first furniture store in Symond St, Auckland in 1962. Import restrictions in the early 1960s encouraged local manufacturing to grow and develop. At the same time, New Zealanders had become more aware of designer trends through "continental" influence. The Winter's business grew and in 1964 when the new 246 Mall on Queen St opened, Danske Møbler was there too. By that time it was a leading furniture retailer with good design functionality at an affordable price. The business continued to expand its markets in NZ and overseas.
Ken and Bente have handed over the management to their oldest son and his wife. The business is now over 50 years old but the fundamental principles remain.
Becoming Kiwis
Having made the decision to settle in NZ, both Bente and Ken became naturalised New Zealanders in 1962.
Other family members came out to settle in New Zealand. Bente's parents came in 1960 and Ken's sister and her husband with their two children followed later.
First trip back to Denmark
Their first trip back to Denmark took place in 1963 after they had been here just over 7 years. This time they went back as a couple, as New Zealanders, and with their first son. It was a test of their decision to live in New Zealand but as Bente says "We fit easily into Denmark and equally we feel at home in New Zealand. It is just like having two homes". That trip was the first of many to come, but the Winter's base was firmly rooted in New Zealand.
Integrating into New Zealand Society
In the mid-1960s, family demands and a growing business was taking up much of their energy and time. They were also heavily involved with the growing Danish Society in Auckland of which Ken was President from 1968 to 1972 and Bente also served on the committee.
Later they both became involved with Rotary in Auckland. Ken not only became President but District Governor. Through Rotary they have made many friends and met people throughout the world.
Looking Back
Bente sees their integration into New Zealand life and their family as the most satisfying part of the life they have had here in New Zealand as well as their business achievements.
"I will never lose my accent," says Bente, "but nor do those from Scotland or Ireland when they come out as adults, so I have accepted that. The fact that I feel I am a New Zealander as well as a Dane is important to me". They have welcomed and entertained many Danish and international friends to New Zealand. Bente says "I am so proud to show them New Zealand as this is our home."
Their three sons are now all married with children of their own and involved with business in their own right. They are all born in New Zealand but were brought up with Danish culture, food and customs.
The last words go to Bente as she looks back on her life.